The Faculty of Materials Science General Information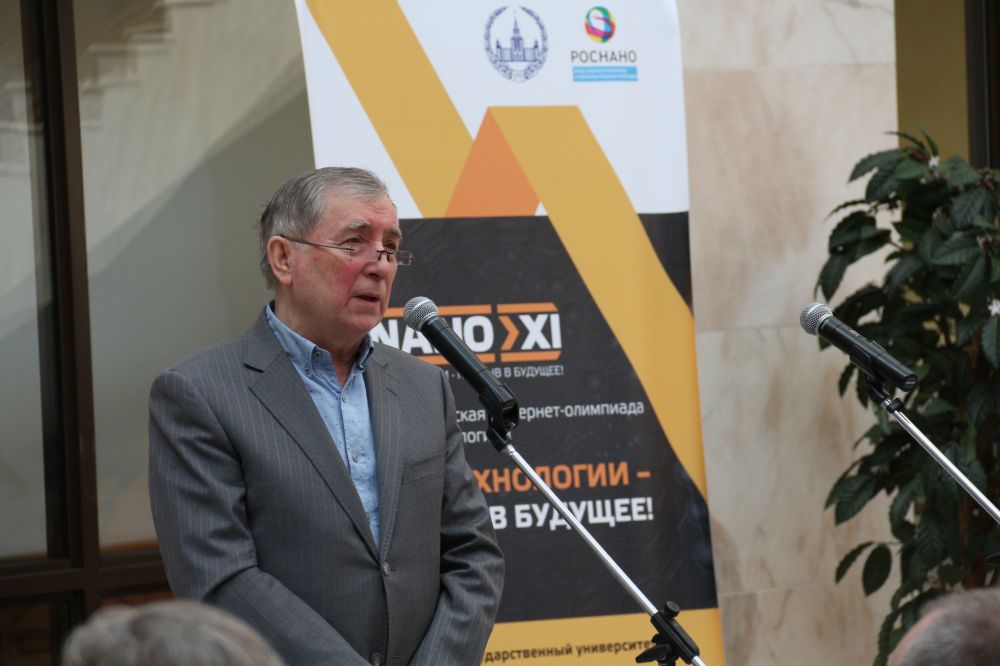 Dean: Academician Konstantin A. Solntsev
The Faculty of Materials Science (FMS) at MSU was founded for the needs of materials science and nanotechnology rapidly advancing at the turn of the 21st century. Especial fields of interest were various sciences such as nanomaterials, biomaterials, photonics, sensorics, microelectronics, spintronics, and solid-state ionics. Today, all these fields are the basis of technological progress. Without them commonplace gadgets such as smartphones, laptops, smart watches and health bracelets, and also modern biomaterials for surgery, prosthetics and biomedical testing technologies are impossible. Moreover, in the nearest future, new amazing devices, such as single-electron transistors and quantum computers, may appear.
The Faculty of Materials Science was established in 1991 as an interdisciplinary division of Lomonosov Moscow State University being a joint effort of the Faculty of Chemistry, Faculty of Physics and Faculty of Mechanics and Mathematics. The main objective of the FMS is to train highly qualified material scientists and researchers, both Bachelors and Masters who know how to conduct modern scientific research in the fields of chemistry, physics and mechanics of materials. Interdisciplinary university education at the FMS is based on an approach related to the study of chemistry, physics, mechanics, and mathematics. Each FMS graduate has strong skills in the following:
• Experience with a wide range of materials with an emphasis on the chemical aspects of production and application of materials;
• Up-to-date experiments in chemistry and physics;
• The theory of physical phenomena and training in experimental condensed-matter physics;
• Mathematical sciences and the application of mathematical methods in research activities;
• Basics of project management in materials science.
Students are trained in a 3-step system of Bachelor, Master and doctorate. Both BSc and MSc programs provide a qualification in "Chemistry, Physics and Mechanics of Materials". The classic disciplines in mathematics, chemistry and physics are studied during the first four years (eight semesters). After successful examination and defense of the thesis, students get Bachelor's degrees and may continue their studies as Master's students. The duration of a Master's program is 2 years. The program includes courses in "Chemistry, Physics and Mechanics of Materials" performed by professors of Moscow State University and the Russian Academy of Sciences. A lot of time devoted to experimental works in different research groups of the Faculty. Master's students can choose special courses themselves that in the future will be important for their academic development. The Faculty offers also the full-time postgraduate program in the field of "Solid-State Chemistry". The duration of postgraduate studies is 4 years.
The Faculty has only 25 position for Russian citizens and for 5 positions for foreign students. This allows implementing an individual approach to the training of each student.
An important feature of the FMS is an individual learning plan. Each student in a group has a personal scientific advisor. Students are involved in research work from their first days at the Faculty. Students have the opportunity to work in scientific laboratories of the Faculty of Chemistry, Faculty of Physics and Faculty of Mechanics and Mathematics, institutes of the Russian Academy of Sciences and joint scientific and educational centers.
Since 1999, the Faculty has been annually organizing the work of the Fundamental Materials Science Section at the International Scientific Conference of Students "Lomonosov" held at MSU. To praise the research work of FMS students, the Academician Valery Legasov Prize, the Academician Yuri Tretyakov Prize and the Academician Nikolay Oleynikov Prize were established.
The Faculty of Materials Science has broad scientific contacts and joint agreements on cooperation with foreign universities and research centers in the USA, Germany, France, Japan, South Korea, Sweden, and Finland. The students have the opportunity to do a 3-6-month internship at foreign universities or research centers. Joint scientific work is carried out within international exchange programs such as DAAD, Erasmus, etc. The FMS cooperates with leading Russian and international companies, including well-known high-tech companies such as Rosneft, Rusnano, Samsung, LG, etc.
The Faculty of Materials Science conducts advanced interdisciplinary research aimed at obtaining new classes of functional materials, including the development of new generations of nanomaterials and nanotechnologies. In this regard, the FMS adheres to a very clear and efficient policy of purchasing state-of-the-art and unique scientific equipment. The Faculty is provided with equipment designed for the study of nanomaterials, for example, high-resolution transmission and scanning electron microscopes, a multifunctional atomic force microscope, a Micro-Raman spectrometer, and a SQUID magnetometer. Within the framework of the Collective Research Hubs at MSU, undergraduate and postgraduate students of the FMS have access to devices of other faculties to carry out their thesis or diploma research.
The Faculty of Materials Science is a founder of a popular science nanotechnology portal www.nanometer.ru and the Internet Olympiad "Nanotechnology – Breakthrough to the Future". It organizes video lectures on topical issues of nanotechnology, international conferences in the field of materials science and nanotechnology. Every year international students and professors visit FMS to perform joint research projects or participate conferences.